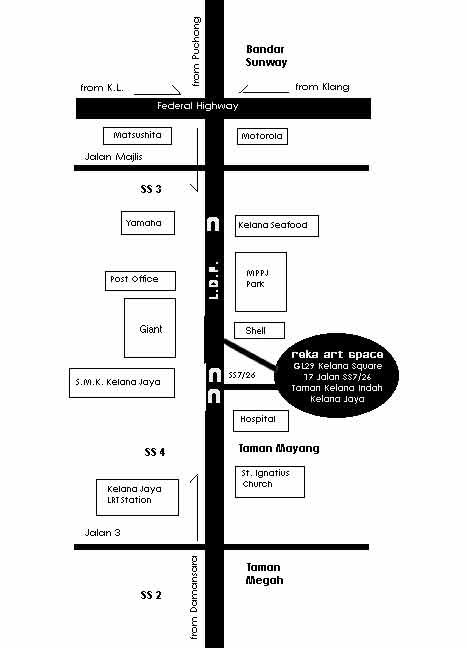 Keywords of the Map:
GL29 Block C Kelana Square 17 Jalan SS7/26 Taman Kelana Indah Kelana Jaya Petaling Jaya 47301 Selangor DE MPPJ Park, Kelana Seafood, St Ignatius Church, taman Megah, Kelana Jaya LRT Station, SMK Kelana Jaya, GIANT Kelana Jaya, KELANA JAYA POST OFFICE, Matsushita, Motorola, Yamaha Kelana Jaya
About This Map:
reka art space, Kelana Square Kelana Indah Kelana Jaya

(Company Location Map)
Coming from Bandar Utama/SS2 on the ldp, drive until you pass the Kelana Jaya putra lrt station on your left. As you pass the lrt station, move towards the left lane. Soon you will arrive at a u-turn. (Roughly one km) . There are 2 u-turns very close to each other. Take the 2nd u-turn AFTER the traffic lights. After making the U-turn, almost immediately, turn left into Jalan SS7/26. You will see the dense Kelana Putri condominiums on your left and the Selangor Football Association football field on your right. Stay on the road as it veers left. You will see Kelana Square on your right. Its the building with blue domes.
Kelana Square Kelana Indah Kelana Jaya, 47301, Petaling Jaya, Selangor