About This Website
Malaysiamap.org is the map search engine of choice to find what you need online. Map Directory with Malaysiamap.org today!
To find a accurate online maps in Malaysia is very difficult. We link you to all online maps which is found in Malaysia websites. We index all the tourist map, street map and city map, this may include a location map which is found in your company website.
We believe following:-
The map found in your company website is very accurate. Because we believe you never show a wrong direction to your customers.
Your maps contain many useful information, like road name, landmarks and buildings.
Your map also shown a direction from a different location to your company.
If you like to share your map, don't forget to give more information to our users. For example, how to skip a toll, a shortcut to your company, where to find a free parking, what is the public transportation is available in your area, etc. Last, don't forget to print your company logo on the map.
Any good example? Click here.
To use our Map Search Engine is very simple.
For example, if you want to go KLCC :-
Type "KLCC" in keyword search form which you can find from the top menu.
From the return results, there was two maps. Lets named it as Map A and Map B.
Map A shown KLCC located at Jalan Ampang. It also shown other major roads which is connected to Jalan Ampang. If you are from Kepong, you will find the direction from Jalan Kuching to Jalan Ampang. (or, any roads which is you are familiar with)
In the Map B, you can see all the landmarks / buildings near to KLCC.
Remember, some maps are contain public transport information, like LRT terminal, bus stations, etc.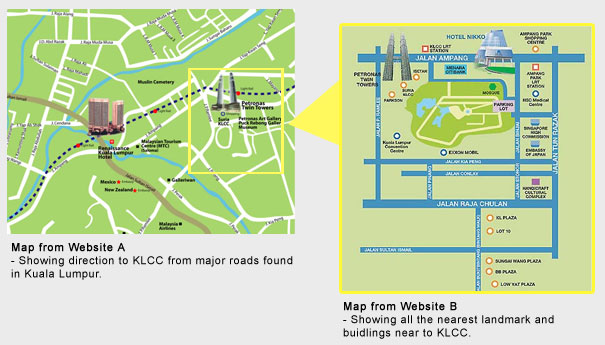 What Next?
Can't Map Directory? Post your request online now.