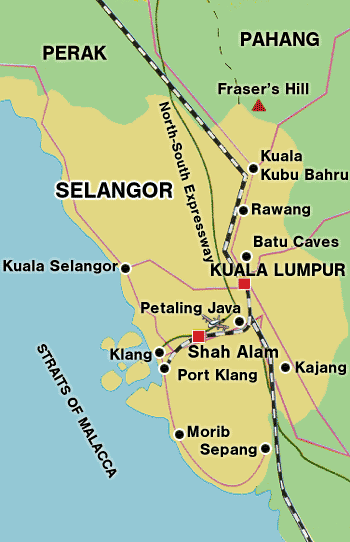 Keywords of the Map:
Batu Caves Bukit Melawati Kg. Kuantan Fireflies Mimaland Mines Wonderland Morib Beach National Zoo Nature Park Orang Asli Centre Pulau Carey Pulau Ketam Royal Selangor Pewter Sunway L
About This Map:
Selangor Map

(Country / State Map)
Selangor, located on the west coast of Peninsular Malaysia, covers an area of approximately 8,000 sq. km., and is home to the largest port in the country, Pelabuhan (Port) Klang. Selangor has the country's largest mosque, Masjid Sultan Salahuddin Abdul Aziz Shah, which can accommodate a maximum of 24,000 people and a brand new stadium, the Shah Alam Stadium, with a capacity of 80,000 seats. Selangor is the most populated state in Malaysia with approximately 1.6 million people, a large portion of who live around the Federal Territory of Kuala Lumpur and the new capital state of Shah Alam.In the 16th century, rich tin deposits were found, attracting the attention of miners, immigrants and colonizers in search of new lands. By the middle of the 18th century, the Bugis had begun to dominate the state, both politically and economically with their large numbers. Their skills as navigators, traders and warriors allowed them to extend their sphere of influence, ultimately establishing the present Sultanate of Selangor.